Emerging issues and market trends
The move towards a circular economy to reduce waste continues, with strong interest from the community, industry and government. Downer's use of waste materials such as glass and printer cartridge toner within its road asphalt products diverts these products from landfill. Creating products from waste materials has been embraced by Downer through:
Investment in our Reconomy business, a thought leader in the innovative diversion of landfill, with a focus on finding sensible reuse for the materials that result from some of our processes
Development and marketing of Reconophalt, a Downer product which incorporates recycled soft plastics and glass into asphalt road construction
Expansion of our circular economy capability through acquiring 50 per cent of Repurpose It, a waste resource company in Victoria
$2.5 million in grant funding through the Queensland Resource Recovery Industry Development program to build another gully pit recycling system in Queensland, similar to the one opened last year in Rosehill, NSW.
In FY19, 14.25 per cent of total asphalt production in Downer was made up of recycled materials. This increased from 12.71 per cent in FY18. The consequent GHG emissions reductions were:
GHG emissions reductions
Please visit this page on your computer for access to trends data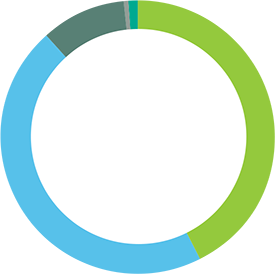 Slag (Aggregate
replacement)
46.2%
10,734 tC02-e
Fly Ash
10.1%
2,357 tC02-e
Glass
0.1%
31 tC02-e
Modified Toner Polymer
(MTP)
0.7%
166 tC02-e
Reclaimed Asphalt
Product (RAP)
42.9%
9,997 tC02-e
Reclaimed Asphalt
Product (RAP)
Glass
Fly Ash
Slag (Aggregate replacement)
Modified Toner Polymer
(MTP)
Infrastructure rating tools
Customers are increasingly specifying ratings for their projects which present us with challenges and opportunities. The application of sustainability rating tools for nominated infrastructure projects allows us to address, mitigate and manage climate-related risks. Some of Downer's successes in infrastructure sustainability include:
Production of an Environmental Product Declaration (EPD) in accordance with ISO14025 for the Sydney Growth Trains (also known as Waratah Series 2) suburban train sets – the first EPD produced in Australia for vehicle and transport equipment
Awarded a 'Leading' Infrastructure Sustainability (IS) Design rating by ISCA for Auckland's City Rail Link project, the highest possible achievement in the IS scheme
The first IS Design rating for a light rail project in NSW for the successful delivery of the Newcastle Light Rail, which achieved an 'Excellent' Design rating by ISCA
First to register a Tasmanian road project for an IS Operational rating for the Tasmanian North West Region Road Maintenance project.
Increasing use of technology
Automation and the increasing use of advanced technology in the workplace, industry and community is a fact of modern life. Downer increased our use of smart solutions in FY19, including electric vehicles, automated vehicles and unmanned aerial vehicles. Downer has continued to add more electric vehicles to our fleet, which provide lower operating and maintenance costs, produce little or no local air pollution, reduce dependence on fossil fuel and have the potential to reduce greenhouse gas emissions. We also led driverless vehicle trials through our joint venture Keolis Downer. In FY19 Keolis Downer joined Flinders University, the South Australian State Government and other industry partners in a five-year trial of autonomous vehicle technology in Adelaide. Keolis Downer also launched a new 12-month pilot program of driverless vehicles in Newcastle in July 2019. Downer is also finding increasing use for unmanned aerial vehicles, commonly known as drones. We have pioneered the use of drones to improve safety, cost and efficiency at a number of sites. One example is our Utilities business using drones to conduct internal inspections of Dewatered Waste Activates Sludge (DWAS) bins for customer, Queensland Urban Utilities (see case study in Health and safety section).
The future of mobility
Reducing the carbon emissions of fleets is a challenge for many businesses, with the switch to low emission and electric vehicles an increasingly viable option. At Downer, transport fuel (road registered vehicles) accounts for 37 per cent of our carbon emissions. Reducing fuel consumption is key to our decarbonisation strategy. Initiatives undertaken this year include joining the Charge Together Fleets program via the Business Council for Sustainable Development (BCSDA). The Charge Together Fleets program is the development of an online platform for businesses, associations and fleet users to assist fleet operators transition to electric vehicles and future mobility models.
Growth in renewables
Downer remains one of the largest and most experienced providers of design, build and maintenance services to Australia's renewable energy market. In FY19 renewable power generation in Australia continued to accelerate. The Clean Energy Regulator expects approximately 4,000 MW of large scale capacity will be accredited in 2019, taking the total to around 8,400 MW generated since 20178. To date, Downer has delivered five solar and 14 wind farms that generate 2,350 MW of renewable energy. In FY19 Downer also had 726 MW of solar and wind farms under construction. In addition, Downer increased renewable energy consumption from 2,141 GJ in FY18 to 5,308 GJ in FY19 in its own operations, primarily from solar PV on rail maintenance, laundries and educational facilities. Examples include the energisation of the 96.5kw PV solar system at Cardiff Rail Maintenance Facility as well as a 99kw system installed at the Derrimut administration/warehouse facility.
8 Clean Energy Regulator 2019, Renewable Energy Target 2018 Administrative Report.
In FY20 Downer has committed to gathering baseline data for waste, and setting waste to landfill reduction targets. In 2019 Downer retendered its waste management service contract. The successful provider was Cleanaway. To help achieve these targets, Downer and Cleanaway have agreed to ambitious key performance indicators to drive improved waste management practices and innovation that will ultimately reduce the amount of waste going to landfill. The KPIs consist of: Cleanaway dedicating a Resource Recovery Specialist to work only on Downer sites; Quarterly National Contract Review meeting to include the Group Sustainability Manager; Annual site visits (twice annually for sites with a spend greater than $100,000) to recommend improvement to waste practices and diversion, and offer innovation with site reports feeding into the Quarterly National Contract Review meeting; and Cleanaway to demonstrate improvements to waste practices and innovation to achieve an agreed dollar value saving per annum.