Our approach
The materiality assessment Downer undertook this year reinforced the importance our stakeholders place on governance and ethical conduct.
This is the second-highest ranked issue, as a result of the Banking Royal Commission strongly influencing stakeholder sentiment in Australia.
Downer's approach to sustainability is underpinned by a robust corporate governance framework. This framework provides the platform from which Downer's Board provides strategic direction for the responsible and sustainable growth of the company. It also drives a culture that promotes high ethical standards and personal integrity.
Under our governance framework, Downer's management is accountable to the Board, and the Board is accountable to shareholders for the operations, performance and growth of the company.
The primary goal the Board has set for management is to focus on enhancing shareholder value, which includes responsibility for Downer's economic, environmental and social performance.
Our Board recognises the need for the highest standards of behaviour and, as such, endorses the ASX Corporate Governance Council's Corporate Governance Principles and Recommendations (ASX Principles). Our Corporate Governance Statement for the year ending 30 June 2019 is included in our Annual Report.
Ensuring our governance and ethical standards are adhered to by our diverse supply chain remains a challenge, particularly around issues such as human rights and modern slavery, and data security.
In the 2019 financial year, Downer committed to achieving the following governance targets and objectives:
Board structure – maintain a balance of skill, experience, expertise and diversity represented on our Board
Strengthen internal audit and risk framework
Review Standards of Business Conduct policy
Financial and corporate governance self-assessment – achieve 100 per cent completion rate among senior management
Zero breaches of disclosures relating to market sensitive information
Zero breaches of anti-bribery and corruption policy
Zero breaches of securities trading policy (insider trading)
Zero instances of anti-competitive behaviour
Improve supply chain management processes
Progress Downer's Modern Slavery Statement.
The performance information in this section includes Transport and lnfrastructure; Mining, Energy and Industrial; Spotless; and New Zealand (including Hawkins) but excludes contractors and joint ventures.
Our performance
Downer has continued to implement the highest level of governance and achieved its targets, as detailed below.
Board committees
At Downer, multiple Board committees assist the Board of Directors in carrying out its primary role of guiding the company's strategic direction. There are five Board committees:
Nominations and Corporate Governance Committee
Audit and Risk Committee
Zero Harm Committee
Tender Review Evaluation Committee
Remuneration Committee.
All charters for the Board and these committees are available on our website under the Board and Committees section. The names of the members of each committee are included in Downer's 2019 Annual Report.
Internal audit and risk framework
Downer has an internal audit and risk function, which objectively evaluates and reports on the existence and effectiveness of our internal risk controls. The internal audit team is independent of the external auditor and reports to the Audit and Risk Committee.
In FY19 the team completed 23 internal audits comprising eight project reviews and 15 reviews of key business processes, which included:
Time capture
Payroll and payroll inputs
Accounts payable
Contractor and subcontractor management
Cybersecurity.
Standards of Business Conduct
Read more
At Downer, we pride ourselves on our brand and reputation, and realise this is directly linked to the behaviour of our people.
We set high expectations for how our people should conduct themselves when representing Downer and this is set out in our Standards of Business Conduct. Approved by the Downer Board, our Standards of Business Conduct is formally administered by Downer's Group General Counsel and Company Secretary.
It applies to all our people, including contractors and agents representing Downer and its subsidiary companies throughout the world. It stipulates what is required in relation to:
Workplace behaviour
Diversity and inclusiveness
Corporate governance
Engaging with stakeholders
Sustainability
Workplace safety.
When commencing employment with Downer, our people are required to read and agree to the Standards of Business Conduct as part of their induction process. For Directors, employees and business partners, refresher training must be undertaken at least every two years.
Downer also has a formal 'whistleblower' policy in place to report breaches of the Standards of Business Conduct. Downer has both internal and external processes that allow for the reporting of breaches, including 'Our Voice', which is an external and independent service that allows employees to anonymously report potential breaches of the Standards of Business Conduct.
Downer encourages its employees, subcontractors and partners to voice their concerns if they identify potentially unethical practices. Downer will not tolerate victimisation of a whistleblower and is committed to providing support and protection against any reprisal for reporting a breach or potential breach of the Standards of Business Conduct. Any employee found to have victimised another will be subject to disciplinary action.
In 2018, Downer committed to reviewing and updating our Standards of Business Conduct policy. A project team was put in place last year and work on the review and update of the policy has progressed, with the aim to launch in the 2020 financial year.
Financial and corporate governance self-assessment
To monitor the effectiveness of our governance framework, we conduct a biannual assessment of our senior executives and senior managers through the Financial and Corporate Governance Self-Assessment (FCGSA).
All Downer senior executives and senior managers are required by the Board to undertake the FCGSA to determine the compliance of their respective areas with financial and corporate governance policies and to furnish a declaration on the outcome of this assessment.
The Audit and Risk Committee receives a summary of issues and acts upon these in accordance with Downer's policies and procedures. Declarations are used to support the Board in their statements to the ASX, NZX, ASIC, NZ Companies Office, ATO, NZ IRO, finance providers, insurance underwriters and others.
Downer has taken steps to strengthen our FCGSA process over the past year. A new FCGSA system was launched, providing more robust technology and better functionality for participants.
Downer also changed the FCGSA to better align with our business structure. For the first time, we extended the FCGSA to include subsidiary Spotless, and adapted the process to reflect Downer's new Divisional structure to ensure the overview of the entire business remained accurate.
Downer conducted two Financial and Corporate Governance Self-Assessment surveys in FY19, with 287 senior executives completing the first, and 307 completing the second.
Timely, honest and transparent disclosures
We treat our shareholders with the highest respect and are committed to providing all investors with equal and timely access to material information about the company. Downer's Disclosure Policy sets out processes to ensure all announcements are factual, timely and presented in a clear and balanced way. A copy of the Disclosure Policy is available on the Downer website.
We are committed to implementing best practice in identifying and disclosing material and market-
sensitive information, which is why our Disclosure Policy adopts procedures in accordance with the Corporations Act 2001 (Cth) and the ASX Listing Rules.
In FY19, we made 43 announcements and disclosures via the ASX and NZX. There were no breaches of continuous disclosure and Downer is unaware of any substantial complaints regarding breaches of privacy or other matters by customers or other stakeholders.
Anti-bribery and corruption
Downer has a zero tolerance to bribery and corruption. We are committed to complying with the law in all jurisdictions in which we operate, as well as maintaining and reinforcing the reputation of Downer and our people for ethical practice.
Read more
That is why we take steps to educate our people on the risk of bribery and corruption. Downer's Anti-Bribery and Corruption Policy sets out our expectations around bribery and corruption and outlines the dangers of breaching these laws.
In FY19, we also continued to develop our Anti-Bribery and Corruption training module for employees to complete.
Political donations
To avoid the potential for bribery and corruption, Downer does not make donations, either in kind or directly, to political organisations, political parties, politicians or trade unions in any country without prior approval from the Chairman or CEO, through the Company Secretary.
Read more
In addition, Downer will not make or solicit payments to organisations which predominantly act as an intermediary to fund political parties or individuals holding or standing for elective office without prior approval from the Chairman or CEO, through the Company Secretary.
In FY19, Downer donated a total of $40,445 in political donations to the following parties: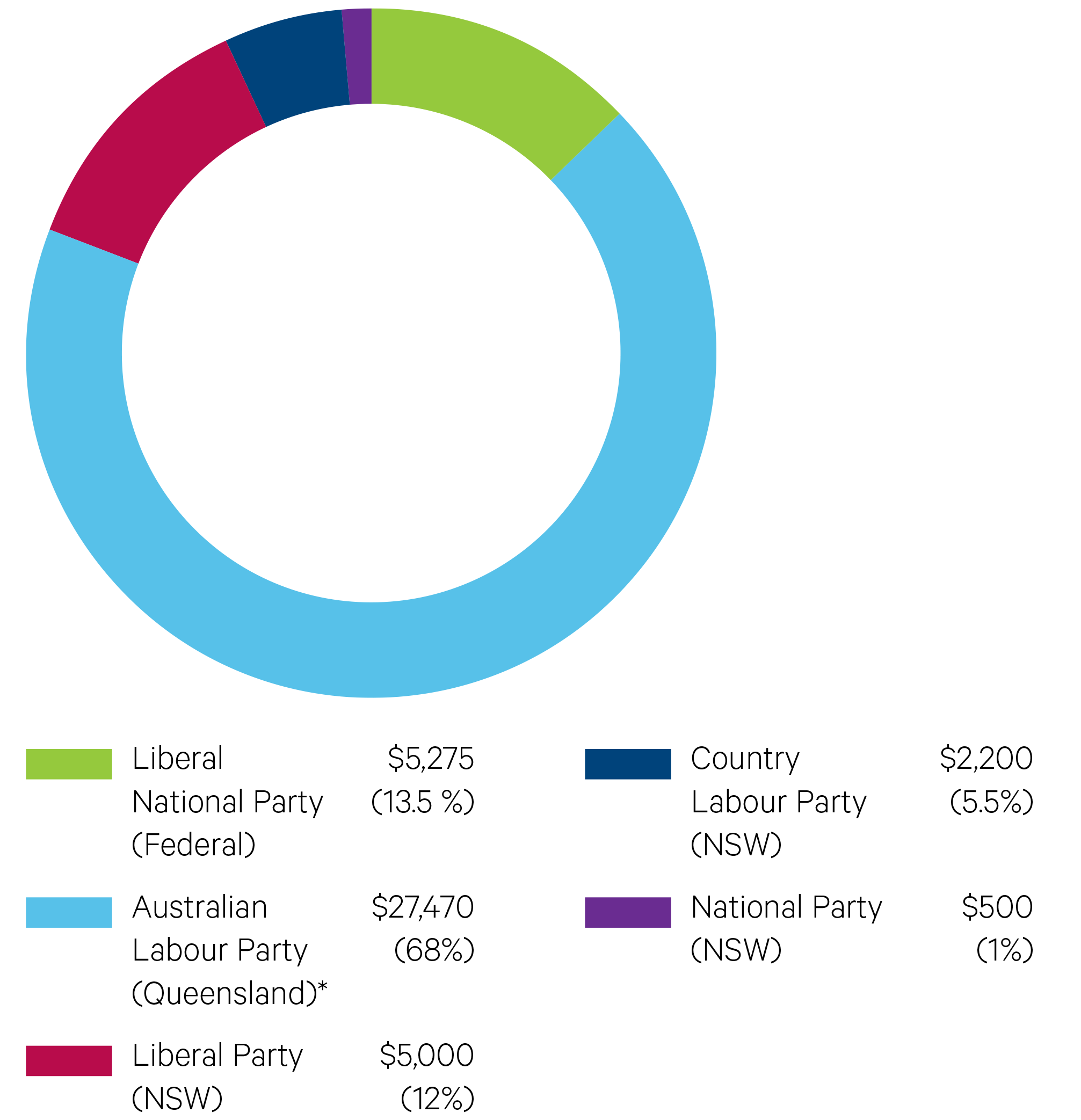 *$11,000 from an event in FY17 was paid in FY19.
Insider trading
Downer is committed to preventing the misuse (or perceived misuse) of market sensitive information by restricting certain securities dealings undertaken by our people.
Read more
Downer's Securities Trading Policy has been developed to ensure that:
Any permitted dealings in securities carried out by our people comply with legal and regulatory obligations (including the prohibition against insider trading)
Downer maintains market confidence in the integrity of dealings in our securities. Our people must not engage in insider trading of Downer's securities or in the securities of another listed entity.
In FY19 there were no reported breaches of the Securities Trading Policy.
Anti-competitive behaviour
Many of the jurisdictions in which we conduct our business have laws to promote or protect free and fair competition (usually called 'competition' or 'anti-trust' laws). Under these laws, it is usually illegal to make an agreement with another person to fix or control prices, market share and distribution practices (among other things).
Read more
It is also illegal to make an agreement with a competitor to boycott suppliers or to deal with only specific customers or markets. Employees must not engage or be involved in any conduct that breaches competition or anti-trust laws.
Breaching these laws can have serious consequences for Downer and our people. Our people understand that even the perception of a breach of these laws will have a serious impact on the reputation of Downer and our people.
In FY19, there were no breaches or litigation associated with anti-competitive behaviour brought to Downer's attention.
Supply chain management (suppliers, contractor and partners)
Downer, including Spotless, has over 30,000 suppliers in Australia and New Zealand.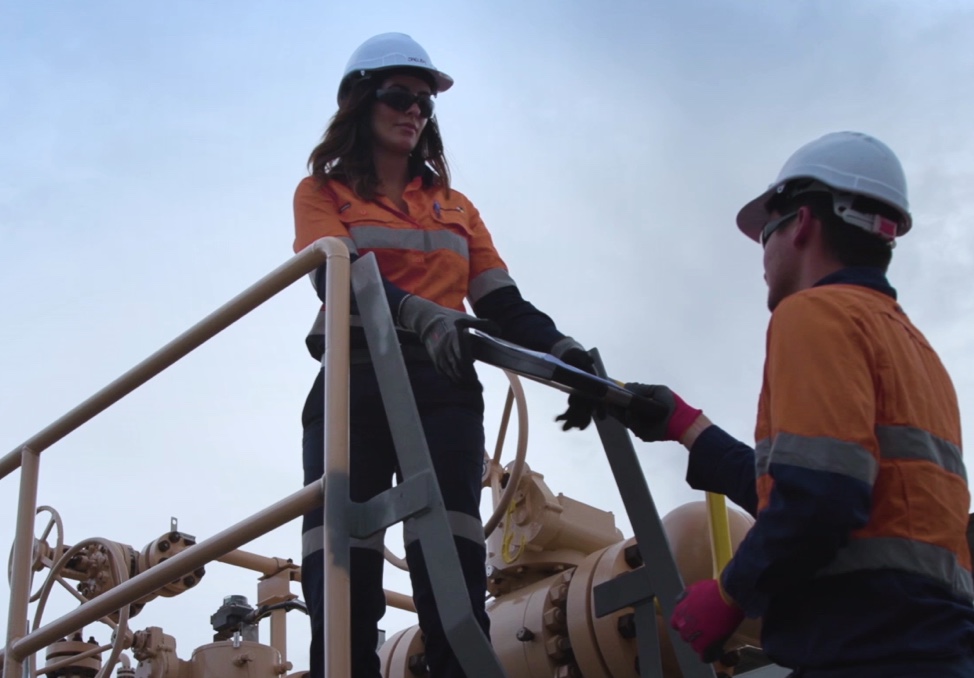 Improving our contractor prequalification process
Managing human rights and modern slavery
Read more
Downer supports fundamental human rights and the prevention of modern slavery and human trafficking.
Downer has developed a plan, overseen by a multi-disciplinary steering group reporting to Downer's Board, to revise and strengthen our sustainable procurement management framework and incorporate modern slavery requirements.
We have identified the key areas where the Commonwealth's Modern Slavery Act 2018 and the NSW Modern Slavery Act 2018 may impact Downer, undertaken a gap analysis of our processes, and undertaken high level risk assessments of our workforce and supply chains. From this we have determined that our greatest risk exposure is within our supply chain, but it is focused in our lower spend categories.
Ensuring that slavery and human trafficking is not taking place in Downer's supply chain, beyond our direct suppliers, remains a challenge. However, we are implementing a risk-based approach and are committed to continuous improvement through the above measures, including engaging with our direct suppliers to educate, assess and encourage continuous improvement in their own capacity to manage modern slavery risks in their subcontractors and broader supply chain.
Downer is a founding member of the Australian Supply Chain Sustainability School, which is an online collaborative library of information on sustainable procurement topics and best practice. We make this resource tool available to our subcontractors and suppliers.
Additionally, Downer has reviewed our own labour practices and supply chain through updates to our existing frameworks, policies and processes to take into consideration modern slavery, in accordance with the Commonwealth's legislation. Downer welcomes the opportunity to produce its Modern Slavery Statement (prior to 31 December 2020) in accordance with its obligations to report under the legislation.
We are taking steps to strengthen our supplier onboarding and monitoring processes to highlight modern slavery risk areas. The processes that we will implement include education of our supply chain to ensure these risks are adequately managed. Where suppliers are found to be non-compliant with our Standards of Business Conduct and contract terms requiring those suppliers to carry out remedial action, we will assist them to improve their processes.
Influencing policies on sustainability
Read more
Downer is a member of various peak industry bodies and organisations which influence policies on sustainability across industries. Some of these include:
Australian Constructors Association (ACA)
Australian Industry Group
Australian Mines and Metals Association (AMMA)
Business Council for Sustainable Development Australia
Business Council of Australia
Chamber of Minerals and Energy of Western Australia (CMEWA)
Civil Contractors Federation
Clean Energy Council
Group of 100
Infrastructure Partnerships Australia
Infrastructure Sustainability Council of Australia
Institution of Professional Engineers New Zealand
Minerals Council of Australia (MCA)
Queensland Resources Council
Responsible Construction Leadership Group.
Supply Chain Sustainability School
Sustainable Business Council of New Zealand
Downer has representation on the Boards of the ACA and MCA.
Read more
Downer understands that, just as our business and customers are evolving, our governance structure must also evolve.
We are committed to continuously improving our governance processes and policies to ensure the highest standards of corporate behaviour.
In FY20, Downer will:
Launch our updated Standards of Business Conduct
Continue to review our membership of peak bodies and industry associations
Continue to review our labour practices and supply chain through updates to our existing frameworks, policies and processes to take into consideration modern slavery, in accordance with the NSW Modern Slavery Act 2018 and the Commonwealth's Modern Slavery Act 2018. We will also progress work on a Modern Slavery Statement, which is due for completion by 31 December 2020
Focus on Category 4 and 5 project reviews across each Division and business processes consisting of procurement project valuation management cash realisation, tax compliance, subcontractor retention and workforce payments and entitlements
Strengthen our governance of anti-bribery and corruption by launching Downer's Anti-Bribery and Corruption training module. This will be made available to General Managers and above, as well as all employees in IT, Human Resources, Payroll, Workers Compensation, Zero Harm, Insurance, Legal, Company Secretariat, Commercial and Procurement functions, with expected completion before the end of the financial year.
Emerging issues and market trends
Read more
Open, transparent and ethical disclosures
There is increased investor and analyst scrutiny of company disclosures following the Royal Commission into Australia's banking sector. Downer supports the increased investor focus on open, transparent and ethical disclosures of all companies listed on the ASX. We will continue to proactively communicate with shareholders, media and all other interested stakeholders.
Cybersecurity
Cyberattacks pose a growing threat to companies around the world. Cybersecurity is the state or process of protecting and recovering networks, devices and programs from any type of cyberattack. While cybersecurity was not identified as a key issue in Downer's 2019 materiality assessment survey, Downer recognises its importance to our business due to year-on-year increases in malicious cyberattack activity.
Downer takes its obligation around cybersecurity very seriously and reports to the Board on related cybersecurity progress, risks and governance.
Downer has established a long-term strategic plan that aims to increase the maturity of cybersecurity practices within our organisation to ensure our employees can securely execute their work for our customers.
In FY19, Downer completed the following actions:
Commissioned a Downer Security Operations Centre (SOC) incorporating 24/7 systems/network monitoring via a dedicated SOC that monitors all Downer traffic, including day-to-day security activities (access requests, security reviews, password management)
Put in place a Security Incident and Event Management (SIEM) capability that analyses critical network and associated data from a range of systems, proactively scanning for vulnerabilities then raising appropriate alerts
Major overhaul and upgrades to our security hardware, including firewalls and proxy servers
Launched Advance Threat Protection (ATP) and Multi-Factor Authentication (MFA), giving Downer users a range of benefits including secure remote logins, security checks on emails and their attachments, and related services
Ensured that all Downer users are committed to security by launching the Downer Cybersecurity Awareness program, which was mandated learning for all employees who have a Downer or Spotless email identity
Additionally, Downer undertakes regular vulnerability scans of systems and penetration testing of business critical systems.