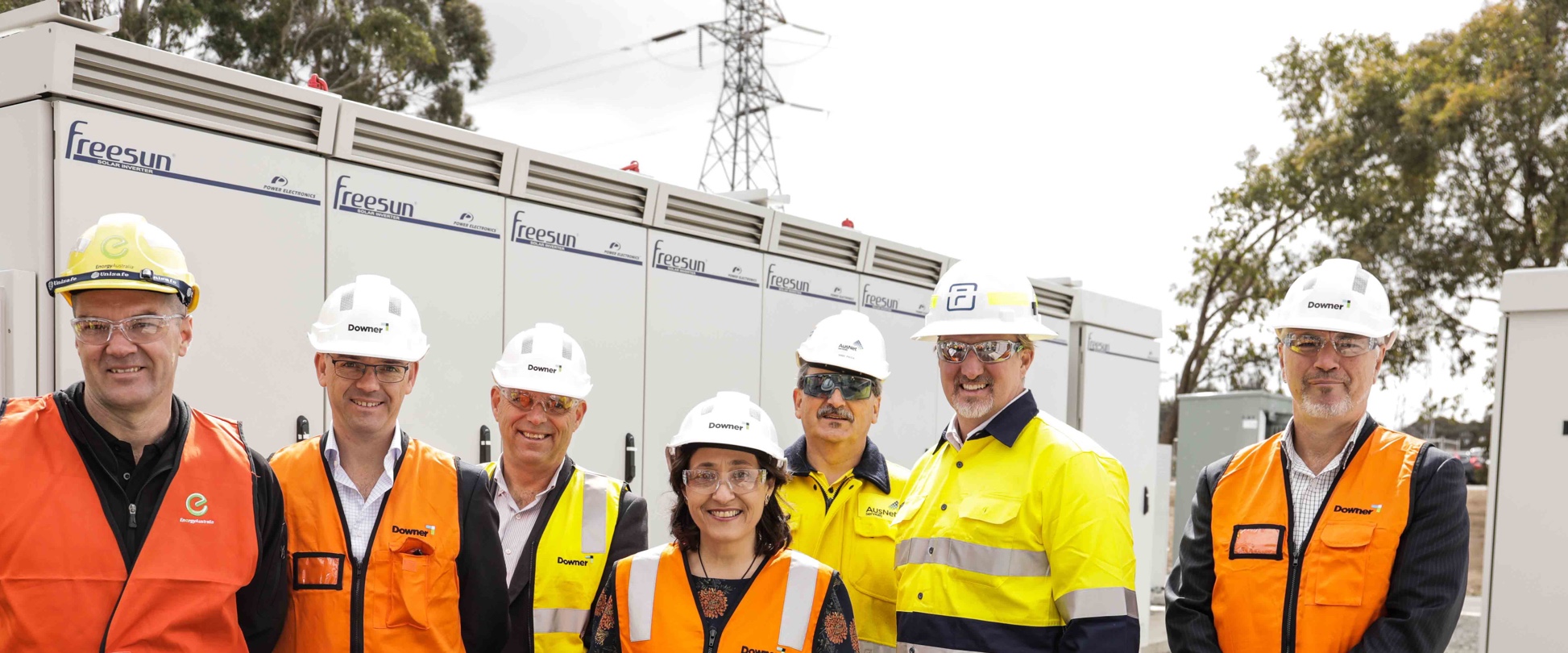 Case study
BESS is best for Ballarat
Downer and Spotless have combined to help deliver Victoria's first utility-scale Battery Energy Storage System (BESS) in Ballarat.
Downer completed construction of the 30-megawatt (MW) 30 megawatt-hour (MWh) BESS at the AusNet Services Ballarat Terminal Station in Warrenheip in October 2018, in time to start relieving pressure on the regional grid during the peak demand summer period.
The BESS provides Victorians with more flexible, reliable and efficient energy, and supports the supply of variable forms of renewable energy such as solar and wind power. The system is capable of powering more than 20,000 homes for an hour of critical peak demand before being recharged and is able to respond to changing grid needs within milliseconds. It will operate 24/7 to support critical peak demand, improving grid stability of the State's energy supply.
"With the growth of renewable energy solutions entering the market, battery storage will play an increasingly pivotal role in providing reliable power in Australia," CEO of Downer's Transport and Infrastructure Division, Sergio Cinerari, said. "The team delivered a great outcome for our customers and the community the battery will serve.
"This project is a critical demonstration of integrating existing and new renewable energy technologies, which will significantly contribute towards our transition to more flexible, affordable and sustainable energy solutions."
Downer is one of Australia's largest and most experienced providers in the renewable energy market and power system sectors, delivering services to customers requiring both utility and commercial scale sustainable energy solutions.
Downer has delivered 19 wind farms and solar farms in Australia and New Zealand, and is in the process of delivering other renewable energy projects, including: Clare Solar Farm (Queensland), Ross River Solar Farm (Queensland), Limondale Solar Farm (NSW), Murra Warra Wind Farm (Victoria) and Turitea Wind Farm (New Zealand).
This initiative demonstrates Downer's contribution to achieve the following Sustainable Development Goal: #13 Climate Action