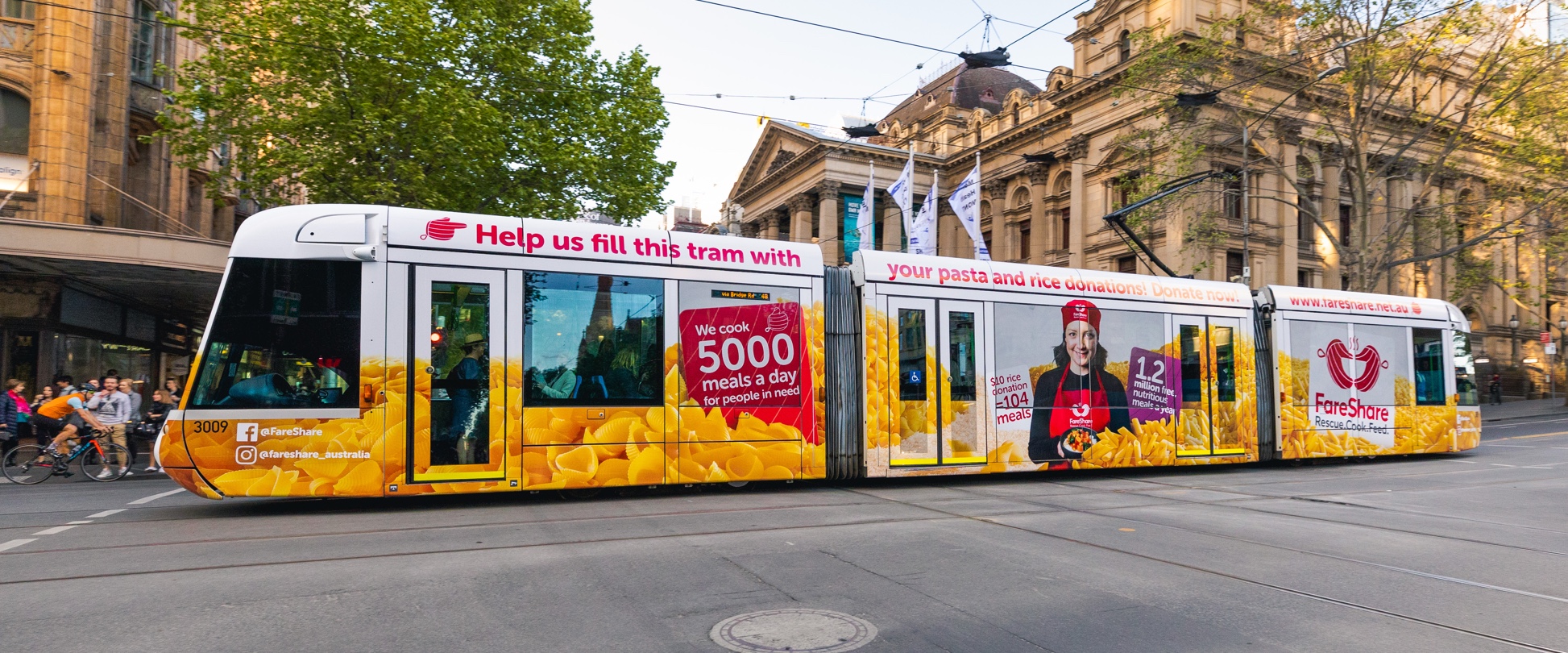 Case study
Yarra Trams give $1 million in free advertising
Melbourne's iconic tram network is operated by Yarra Trams, a partnership between Downer and Keolis.
Keolis Downer believes strongly in contributing to Melbourne's liveability by extending our support beyond the rails to the community we serve. We do this by building partnerships with community organisations that support our vision for a diverse and inclusive Melbourne. In 2017, we launched the Yarra Trams Community Partnerships Program and in 2018, we donated $1 million of free advertising value to eight Melbourne not-for-profit organisations.
As the largest tram network in the world, consisting of over 475 trams, our vehicles have been recognised as high-exposure moving billboards, travelling across over 250 kilometres of tracks throughout Melbourne's metro area, reaching millions of people daily.
Many organisations pay to promote their products through tram advertising, but we identified free tram advertising as a great asset Yarra Trams has to support community organisations.
For the 2018 program, we received over 200 applications for a share of $1 million in free advertising. The 200 applications were shortlisted to 20 and reviewed to ensure alignment of values with Yarra Trams, particularly regarding diversity and inclusion.
After careful consideration, we chose Arts Project Australia, City in the Community, Charcoal Lane, Safe Steps Family Violence Response Centre, HomeGround Real Estate, Fitted for Work, the Alannah and Madeline Foundation and FareShare as our 2018 tram wrap partners.
FareShare's tram wrap challenged Melbourne to 'fill this tram' with rice and pasta donations to feed Melbourne's hungry. The campaign's aim was to collect 20 tonnes of rice and pasta and was a huge success, with FareShare collecting over their targeted amount.
In line with our commitment in last year's Sustainability Report to increase employee involvement in community activities and partnerships, Yarra Trams employees added support to FareShare's campaign by helping collect rice and pasta. Our goal was to donate one tonne… but the team was so enthusiastic we collected 2.3 tonnes – the equivalent of providing approximately 37,000 meals for people in need.
Yarra Trams will continue to provide community organisations with a share in $1 million of advertising value annually for the life of the franchise. During 2019 Yarra Trams is partnering with Afford, Asylum Seeker Resource Centre, Batyr, Centre for Multicultural Youth, The Big Issue, The Torch, Travellers Aid and VincentCare.