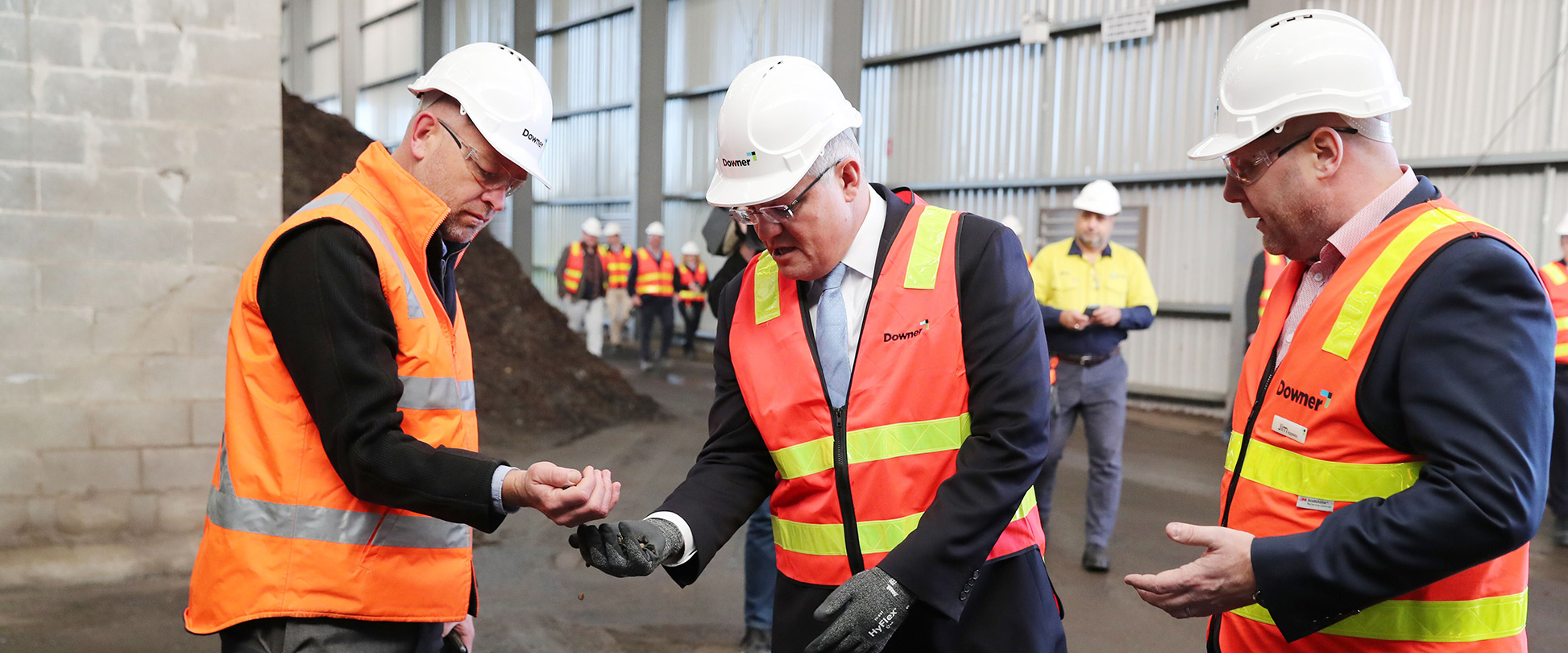 Case study
Australian Prime Minister Scott Morrison visited Downer's Rosehill site in NSW to learn about how we incorporate materials that would end up in landfill and repurpose them to a higher value use, such as in the roads we manufacture throughout Australia.
60 million glass bottles recycled into roads in one year!
In 2018, Downer launched a number of recycled road solutions. In 2019, the rubber has really hit the road with these initiatives.
In fact, the rubber is in the road. Crumb rubber from 191,250 end-of-life tyres, to be exact.
Downer's sustainable pavement solutions include asphalt and spray seals containing recycled tyre rubber and Reconophalt, our innovative product that takes glass, soft plastics, printer toner and reclaimed roads destined for landfill and turns them into new road pavement.
We built Australia's first recycled road containing soft plastics and glass in May 2018, and over the past 12 months we have laid roads across Australia and New Zealand using asphalt containing recycled products.
In FY19, roads built by Downer have included:
10,083.3 tonnes of glass – the equivalent of almost 60 million glass bottles
Soft plastics from the equivalent of more than 14 million plastic bags and packaging
405,000 tonnes of reclaimed asphalt pavement – that's 415 kilometres of road
Waste toner from 333,000 used printer cartridges
Crumb rubber from 191,250 end-of-life tyres.
To support the increased usage of sustainable pavement solutions, Downer opened a $5 million cutting-edge flexible pavement products manufacturing hub in Teralba, NSW, in June. The new facility is one of the most advanced of its kind in Australia, capable of producing a wide range of products including asphalt containing recycled tyre rubber and Reconophalt.
The Teralba plant wasn't our only investment in facilities that will drive the circular economy this year.
In March 2019, Downer executed an agreement to purchase a 50 per cent shareholding in Victoria-based waste-to-resource business Repurpose It, which delivers a range of services from multiple transfer stations to waste management consulting, construction materials and soil amendments, organics and green waste processing, waste transport and collection, resource recovery and bin supply and collection.
The 2019 financial year was also the first 12 months of operation of our detritus processing facility in Sydney, which is run by Downer's Reconomy business. The facility opened in June 2018, and over the past year we processed in excess of 10,000 tonnes of street sweepings, diverting over 87 per cent from landfill and into sand and aggregate products for roads and organic products.
This initiative demonstrates Downer's contribution to achieve the following Sustainable Development Goals: #12 Responsible consumption and production; #13 Climate Action