Supply chain relationships
Contractor management is Downer's fifth-highest ranked material issue in our FY21 materiality assessment.
Last year, Downer spent over $10 billion with more than 33,000 suppliers and subcontractors.
Percentage of spend by supplier category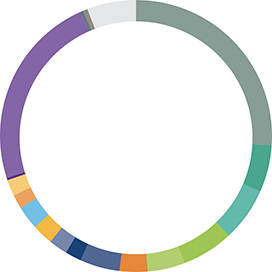 Subcontractors
26.13%
Consumables
5.61%
Facilities
6.48%
Raw Materials
5.96%
Professional Services
4.62%
Fleet and Fuels
3.28%
Rail

4.85%
Labour Hire and Recruitment Services
1.94%
Heavy Mobile Equipment
2.13%
Information Communication Technology
2.57%
Equipment
2.64%
Logistics
1.74%
Food and Beverage
1.92%
Travel
0.34%
Other
23.27%
Tyres
0.33%
Laundry
0.37%
Not categorised
5.82%
Subcontractors
26.13%
Consumables
5.61%
Facilities
6.48%
Raw Materials
5.96%
Professional Services
4.62%
Fleet and Fuels
3.28%
Rail
4.85%
Labour Hire and Recruitment Services
1.94%
Heavy Mobile Equipment
2.13%
Information Communication Technology
2.57%
Equipment
2.64%
Logistics
1.74%
Food and Beverage
1.92%
Travel
0.34%
Other
23.27%
Tyres
0.33%
Laundry
0.37%
Not categorised
5.82%
It is important to Downer that our suppliers and contractors share our values and reflect our expectations when doing business with and for us. Downer undertakes a comprehensive prequalification process to ensure our suppliers and subcontractors meet our high standards of business conduct. This includes background checks on financial health, health and safety standards and policies, environmental policies, and adherence to Downer's terms and conditions.
Downer's standardised Procurement framework, which is supported by a range of best practice platforms, ensures we are engaging with the right suppliers and subcontractors to achieve our business, ethical, Zero Harm and social objectives.
Downer's standardised Procurement framework, which is supported by a range of best practice platforms, ensures we are engaging with the right suppliers and subcontractors to achieve our business, ethical, Zero Harm and social objectives.
Downer's Procurement team's key objectives align with Downer's Pillars and are to:
Ensure value for money is delivered across all Downer procurement activities
Meet governance and probity requirements
Streamline procurement processes
Deliver on our social and sustainable procurement goals.
An example of Downer's approach to social and sustainable procurement comes from DM Roads' Western Area Metropolitan Road Assets Maintenance Contract (MRAMS), which covers the road maintenance activities for 1,000 kilometres of roads in Melbourne's north west, including all the major freeways and arterial roads.
Our customer, Department of Transport (DoT), outlined an initial requirement in the contract to engage Social Traders, an organisation that creates jobs for disadvantaged Australians by linking businesses and government buyers with social enterprises. While the contract outlined a requirement to contact the organisation, it did not set any specific social procurement targets.
But, with a footprint this large, we identified a clear opportunity to set an ambitious social procurement target of two-to-three per cent of costs spent through social enterprises in FY21.
The team identified social enterprises within the DM Roads supply chain and also engaged Social Traders, as well as Supply Nation, Australia's leading directory of verified Indigenous businesses, to identify further opportunities and organisations.
This has resulted in MRAMS creating opportunities in various sectors, including food, sanitary products, stationery, cleaning, labour and operational expenses, which will allow the team to achieve its social enterprise spend target. The largest opportunities provided include:
Latrobe Valley Enterprises (LVE): A sign manufacturer that has previously supplied a minor number of signs due to limited production capacity. Through the relationship with DM Roads, they have been able to invest in a world-class printing machine and will become the main supplier of signs for the MRAMS contract.
Knoxbrooke: A nursery and assembly service in Mount Evelyn which employs 150 people with disabilities. MRAMS partnered with Knoxbrooke to explore opportunities for the supply of miscellaneous items.
Good Cycles: An organisation that helps disadvantaged youth by providing a pathway back into the workforce. MRAMS identified that deploying a utility vehicle on shared paths to complete SUP hazard inspections and rectification was not practical. We engaged Good Cycles to complete the same inspections using their specifically designed rickshaw bike. The added benefit of this partnership is that it also improves safety by removing large utility vehicles from shared paths and provides an environmental benefit using bikes in place of vehicles.
Goal Indigenous Service: An agency that assists in the recruitment of Indigenous employees and the supply of labour hire.
IPA Labour Hire: DM Roads has established a new supply agreement with IPA for labour hire. The agreement will ensure all non-Indigenous labour hire is now engaged through a social enterprise. Labour hire represents a large percentage of expenditure within the MRAMS contract.
The social value created by procuring goods and services through social enterprises has also resulted in improved team engagement, giving a strong sense of purpose for team members, who are seeing how their project is giving back to the community in which they live and work.
The team has also shared its learnings with the wider Downer Group, with recommendations on how to leverage the Group's collective buying power to generate greater social value and change.
Supplier diversity is a key strategy in New Zealand to create an equitable and prosperous Aotearoa.
We understand that Māori and Pasifika businesses are under-represented, under-valued, under-served and often not considered for mainstream business opportunities – and we are developing programs to reverse this trend.
Last year, Downer NZ joined 'Amotai – Supplier Diversity Aotearoa' with the aim of growing our network of Māori and Pasifika owned businesses across the country. With business operations right across New Zealand, Downer is in a strong position to support the sustainable diversification of supply chains.
By working closely with the Amotai team, we continue to build and develop relationships with Māori and Pasifika owned businesses nationwide, helping us to provide more opportunities through our projects across New Zealand.
Downer NZ has generated over $14.34 million in spend through Māori and Pasifika businesses within our supply chain. One example comes from the Turitea Wind Farm, which is New Zealand's largest wind farm project in a decade. Downer is completing the balance of plant works for Vestas as head contractor, which provided an opportunity to engage Loaded Steel, a 100 per cent Māori-owned business which specialises in steel foundations for wind turbines. Loaded Steel delivered a high quality set of foundations for Downer at Turitea on time, to a high quality, and on budget, helping to grow our network of Māori and Pasifika owned businesses.
In FY21, Downer has continued to embed FY20 initiatives and platforms to help meet our supply chain management objectives, including:
The online sourcing tool that helps Downer employees ensure they are adhering to governance and probity requirements as well as social and sustainability goals
An online performance evaluation tool, which helps to ensure Downer does not re-engage poor-performing suppliers and subcontractors and complies with requirements for International Organisation for Standardisation (ISO) certification.
In FY21, Downer also rolled out our online Procurement Induction and Training module to guide employees through Downer's Procurement framework and keep them informed of important changes in legislation, such as modern slavery.
In addition to embedding these initiatives, we have developed and launched our Procurement Certification training program for team members who perform complex procurement functions. The program ensures the necessary employees are fully trained on key procurement aspects, and is aligned to The Downer Standard. The training includes demonstrations on Downer's available tools and resources, and insights on procurement best practice, including how to incorporate key requirements like social procurement into planning and implementation. Participants are also given an overview of Downer's project procurement process, and our standardised Procurement framework, including key documents for project procurement.
In FY21, Downer signed up to both Sedex and the Carbon Disclosure Project (CDP) supply chain program.
CDP is a not-for-profit organisation focused on enhancing worldwide disclosure on carbon emissions and climate risk. CDP surveys over 9,600 companies worldwide each year to compile one of the most comprehensive datasets on global emissions and initiatives to tackle climate change. The supply chain program expands on CDP's survey process by allowing companies to directly connect with their suppliers and understand their broader carbon footprints.
Joining this program not only provides Downer with meaningful insights into our Scope 3 greenhouse gas emissions arising from our supply chain, it is also an opportunity to meaningfully engage with our key suppliers, strengthen our relationships, and make more informed supplier decisions based on their relative emissions profiles. The program will also form the backbone of Downer's submission to the Science Based Target Initiative, relating to our Scope 3 emissions in FY21.
Sedex is a not-for-profit organisation that aims to improve ethical and responsible business practices in global supply chains. It provides an online platform, tools and services to help organisations like Downer operate responsibly and sustainably, protect workers and source ethically.
Almost 60,000 member organisations from 180 countries use the Sedex online platform to exchange data, manage business risk, meet compliance and drive positive impact on people.
Joining the Sedex program provides Downer a forum to connect with like-minded companies, creating opportunities to do ethical business and approach shared topics of interest. It also offers a streamlined and consistent process to ensure that Downer is only dealing with suppliers that meet our minimum standards for fair and safe working conditions, anti-corruption practices, antidiscrimination policies, and environmental compliance.
Outside of our Group-wide initiatives like CDP and Sedex, Downer teams are also proactive in developing programs to engage with their supply chains.
In New Zealand, our Hawkins business has developed a work matching and mentoring program, Ako Whakaruruhau, which is focused on removing the barriers to employment for Māori and Pasifika youth.
In Auckland, 16 Hawkins mentors support 33 Māori and Pasifika apprentices across our supply chain network. This is building lasting relationships and powerful bonds across our supply chain by ensuring trainees and apprentices are supported at work, at home, and in their personal and learning journeys. It also gives our Māori, Pasifika and experienced employees an opportunity to give back to their communities.
The program is growing and we are actively recruiting more mentors and trainees.