About this report
This Sustainability Report discloses Downer's sustainability-related performance for the financial year ended 30 June 2020.
Sustainability performance information relating to Downer entities and joint ventures has been included in the relevant sections of the report.
Changes to the reporting boundaries or measurement methodologies applied with reference to our previous Sustainability Report are addressed in the relevant report sections.
This report discloses the sustainability-related performance of businesses within the Downer Group (Downer EDI Limited), including Spotless and Hawkins unless otherwise stated, for the financial year ended 30 June 2020. It is to be read in conjunction with Downer's 2020 Annual Report for information pertaining to the company's financial sustainability. As such, cross-references to Downer's Annual Report appear throughout this document.
A word from the Chairman
and CEO
This report has been prepared in accordance with the Global Reporting Initiative (GRI) Standards: Core option, ensuring it presents a full and balanced picture of Downer's material topics and related impacts, as well as how these impacts are managed.
Our approach to Zero Harm
Downer recognises that a sustainable and embedded Zero Harm culture is fundamental to the company's ongoing success, and to building trusted relationships with customers and business partners. Zero Harm at Downer means a work environment that supports the health and safety of our people, allows us to deliver our business activities in an environmentally sustainable manner, and advances the communities in which we operate.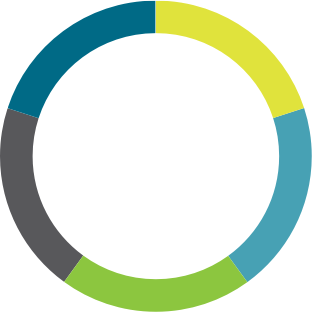 Downer's Zero Harm performance continues to be strong and industry leading. Many of the activities that Downer's people perform every day present inherent risks. Our people are our greatest asset, and understanding and managing these risks is of paramount importance. Achieving Zero Harm is a key focus of Downer's culture. The drive to lead, inspire, manage risk, rethink processes, apply lessons learned, adopt and adapt practices for continued improvement of systems and performance makes Downer a Zero Harm leader and provides a source of competitive advantage.
Downer's Zero Harm Management System Framework sets the company's Zero Harm and sustainability governance requirements. Downer has been certified (as a minimum) to the following standards: AS/NZS 4801 or OHSAS 18001 (for occupational health and safety management systems), ISO 14001:2015 environmental management systems, and IS0 9001 quality management systems.
The Downer Board's Zero Harm Committee oversees the development and implementation of Downer's Zero Harm management systems, and the process of Downer's Zero Harm performance. The effectiveness of these systems is monitored through extensive internal and third-party audit programs, with oversight by both the Board Zero Harm and Board Audit and Risk Committees. Other aspects of Downer's approach to sustainability are overseen by the Group Diversity Committee and other relevant corporate governance forums.
Further information about Downer's approach to Zero Harm is available online at www.downergroup.com/health-and-safety