Our stakeholders
Downer recognises that our business operations have a direct impact on a wide range of stakeholders.
Downer believes that what is important to our stakeholders is important for us to meet our strategic objectives and fulfil our Purpose.
This requires ongoing and effective engagement with our stakeholders, where we provide transparent and timely information and actively encourage feedback. We utilise the following initiatives to promote open, two-way communication between Downer and our stakeholders.
How we engage with our stakeholders
Stakeholder
Upstream/
Downstream*
How we engage
Customers

Downstream
Meetings, surveys, joint sustainability initiatives, and social media channels
Communities

Downstream
Project specific community engagement plans, local media, social media channels, employment opportunities, local supply arrangements, community investment projects, sponsorships and donations
Investors and shareholder community

Downstream and

Upstream
ASX releases, Half Year and Full Year results presentations and webcasts, Investor Day (annually), Annual General Meeting, Annual Report, Sustainability Report, regular meetings and social media channels (ongoing)
Business partners

Upstream
Joint venture boards and operating committees, meetings, workshops
Suppliers

Upstream
Pre-qualifications, tender contract documents, inductions and training, meetings, contractor engagement
Government regulators

Upstream
Reports, meetings
Industry associations

Upstream
Representation on boards and committees, meetings
Trade Unions

Upstream
Meetings
Media

Downstream
Media/ASX releases, briefings and interviews, websites, social media channels
Non-Government Organisations (NGOs)

Upstream
Participation in forums, meetings
* Upstream stakeholders
– comprises stakeholders who either directly or indirectly influence Downer's success.
Downstream stakeholders
– comprises the paying customer and end-users of Downer's products and services.
What are material issues?
Downer seeks to identify the issues that matter most to the business and our stakeholders, and have the greatest potential to impact our future success and returns to shareholders. We refer to these as our material issues. In FY19, Downer revisited its materiality assessment in accordance with the Global Reporting Initiative (GRI) Standards. Materiality Counts, an independent expert, led a process to engage selected internal and external stakeholders to identify and understand our material economic, social, environmental and governance risks and opportunities.
Why we do this
Materiality helps Downer to focus our sustainability reporting on the material issues, helping to keep it directly relevant to what matters to our stakeholders. Material issues are also a valuable input to our strategic planning. Downer recognises these issues may change over time, reflecting changes in our business and external operating environment and the expectations of stakeholders. We use the results of the materiality assessment to inform our business strategy and our sustainability framework and targets.
Our materiality process
The independent process consisted of the following steps.
Step 1
Develop the universe of potential material issues:
A list of potential material issues, alongside short explanations, was compiled using a comprehensive range of inputs from various stakeholders, as mentioned above. These included material risks, media scanning, stakeholder feedback, employee surveys, peer review, industry trends and the United Nations' Sustainable Development Goals (SDGs). This resulted in a consolidated list of 18 potential material issues for review and discussion by stakeholders.
Step 2
Materiality survey:
A representative sample of stakeholders was identified for consultation on the relative importance of these issues. This included internal stakeholders – namely Board members, Executives and employees – as well as external stakeholders including investors, business customers, suppliers, industry associations and Non-Governmental Organisations (NGOs), ensuring geographic spread across Australia and New Zealand. All stakeholders completed a survey, providing quantitative data on the relative priority of the issues.
Step 3
Stakeholder interviews:
One-on-one telephone interviews were undertaken with selected external stakeholders which provided qualitative context to inform our understanding of the current and future context of each issue, including the potential for it to impact our value creation over time.
Step 4
Validation of the results:
The validation of results is an important part of the process. The qualitative and quantitative results and stakeholder feedback were presented to Downer's Zero Harm Board Committee for validation and approval. Once approved, these material topics and issues framed the structure and content of the Sustainability Report.
Materiality results
Stakeholders prioritised the issues based on their importance and significance of impact for Downer. An overall issue ranking greater than 8.20 (sum of the average internal and the average external rankings) was taken as the materiality threshold for Downer. This provided a list of the top 11 issues which Downer deems to be its material issues. The remaining seven issues, which remain important to Downer and will continue to be managed, are referred to as other issues.
In FY20, the material issues were examined to ensure their continued relevance and importance, and to consider the impacts of COVID-19 to determine whether this has affected their prioritisation. The outcome of this exercise was that, despite the disruption caused by COVID-19, the material issues and their prioritisation remained unchanged.
The materiality assessment provided key sustainability insights for Downer's strategy and frames the content for this year's Sustainability Report. The materiality results are shown in the matrix below and further explained in order of priority.
The results were positive, with strong alignment between internal and external stakeholder views, as shown in the spider diagram.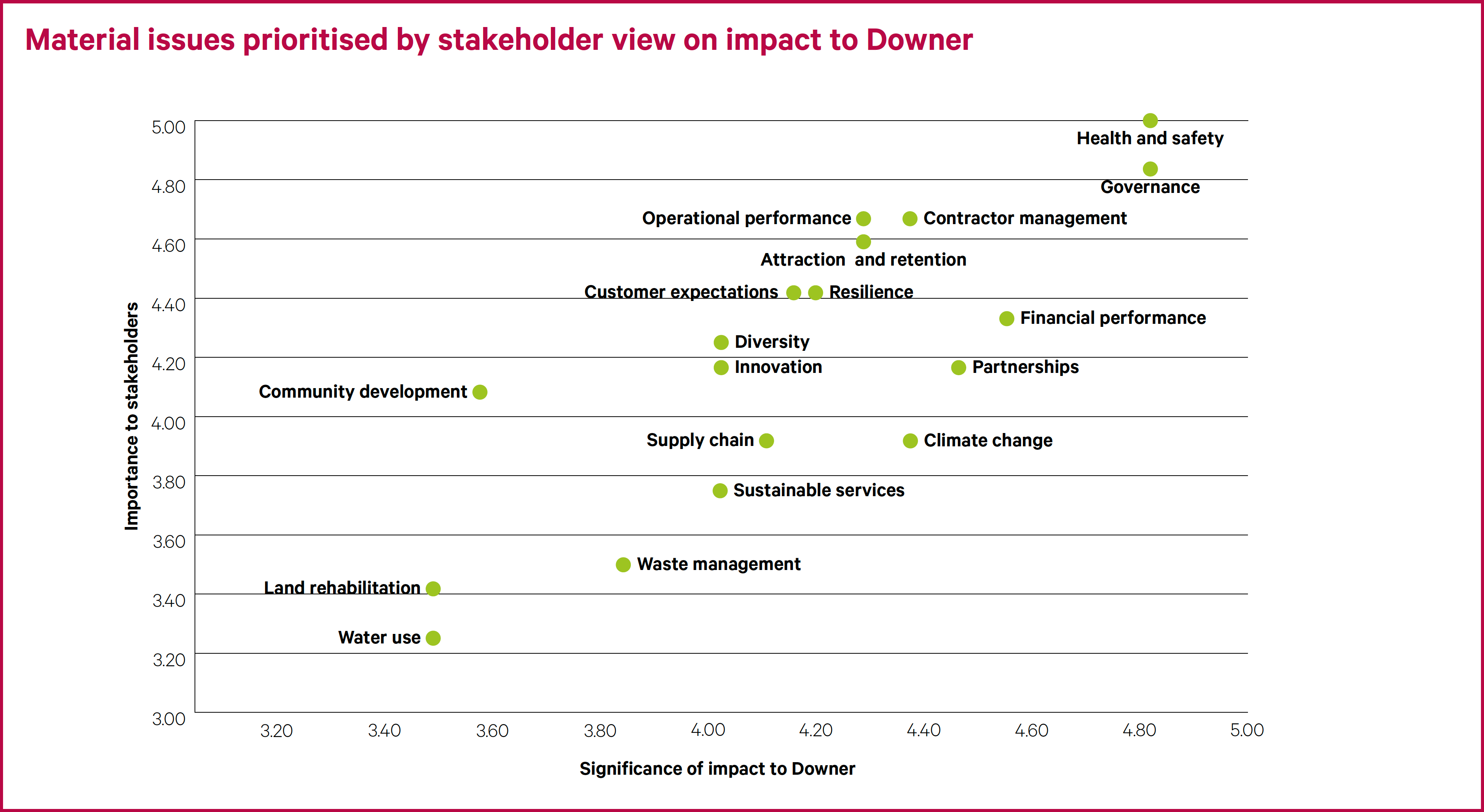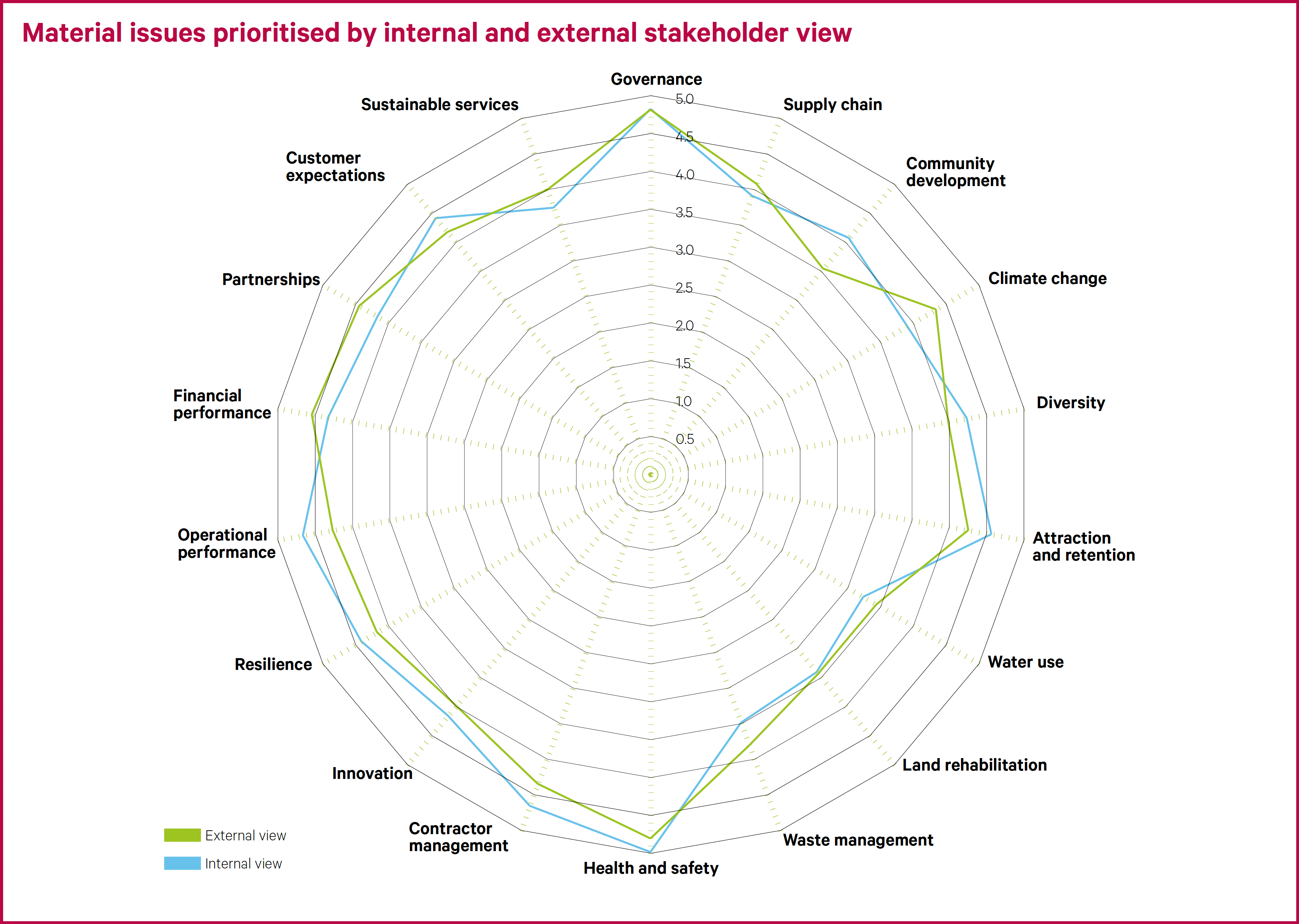 Material issues
This materiality assessment identified a prioritised list of 11 material issues. It also identified the top seven Sustainable Development Goals that Downer contributes to. The context behind each material issue is as follows:
The material issues identified above are addressed within the relevant sections of this Sustainability Report, except for financial performance, operational performance and business resilience. Instead, these are referenced within the context of the Sustainability Report but addressed in more detail in Downer's Annual Report.
The other issues, in order of priority are:
Other issues by ranking
Other issues by ranking
Definition
12. Innovation and technological change
Keeping pace with technological innovation to ensure we are embedding operational technology into core service offerings to remain market competitive and meet customer expectations. Increasing investment in, and utilisation of, asset management and data analytics tools.
13. Sustainable supply chain
Engaging with suppliers and contractors to tackle modern slavery and human rights within the supply chain. Aligning our procurement systems and processes to ISO20400: 2017: Sustainable Procurement – Guidance.
14. Sustainable products and services
Creating sustainable products and services for the market and our customers. This includes environmental and sustainability ratings, certifications and product stewardship.
15. Community development, relationships and trust
Supporting the success of the communities in which we operate through partnerships, sponsorships, donations, training and employment opportunities – including for Indigenous people, local purchasing and heritage management. Improving community living standards and contributing to the economy by providing jobs and infrastructure, and preparing the community for site closure.
16. Waste management and resource efficiency
Reducing the amount of waste we generate through resource recovery, avoidance, reuse and recycling. Supporting the circular economy through the creation of new products, like Reconophalt™.
17. Land rehabilitation
Rehabilitating land, including revegetation at facilities, both pre- and post-closure, and rehabilitation of contaminated land.
18. Water use
Managing water consumption to reduce the amount of potable water used in our business through resource efficiency and onsite treatment and reuse.
These issues remain important to Downer, with many forming part of our business strategy and contributing to Downer's performance.
Changes from previous years
There are no material changes in the list of material topics and topic boundaries from previous years. However, restatements were made to FY18 and FY19 Scope 1 emissions and energy consumption within the Environment section. This is in response to the inclusion of subcontractor emissions for New Zealand for FY18 and a material adjustment to previously disclosed subcontractor emissions for FY19, as a result of a change in methodology.
UN Sustainable
Development Goals
In 2015, the United Nations agreed on 17 SDGs as part of a 2030 Agenda for Sustainable Development to end poverty, promote prosperity and wellbeing for all, and protect the planet.