Downer's total workforce profile is 35 per cent female and 65 per cent male.
As at 30 June 2020, our female employee metrics, including Spotless, were: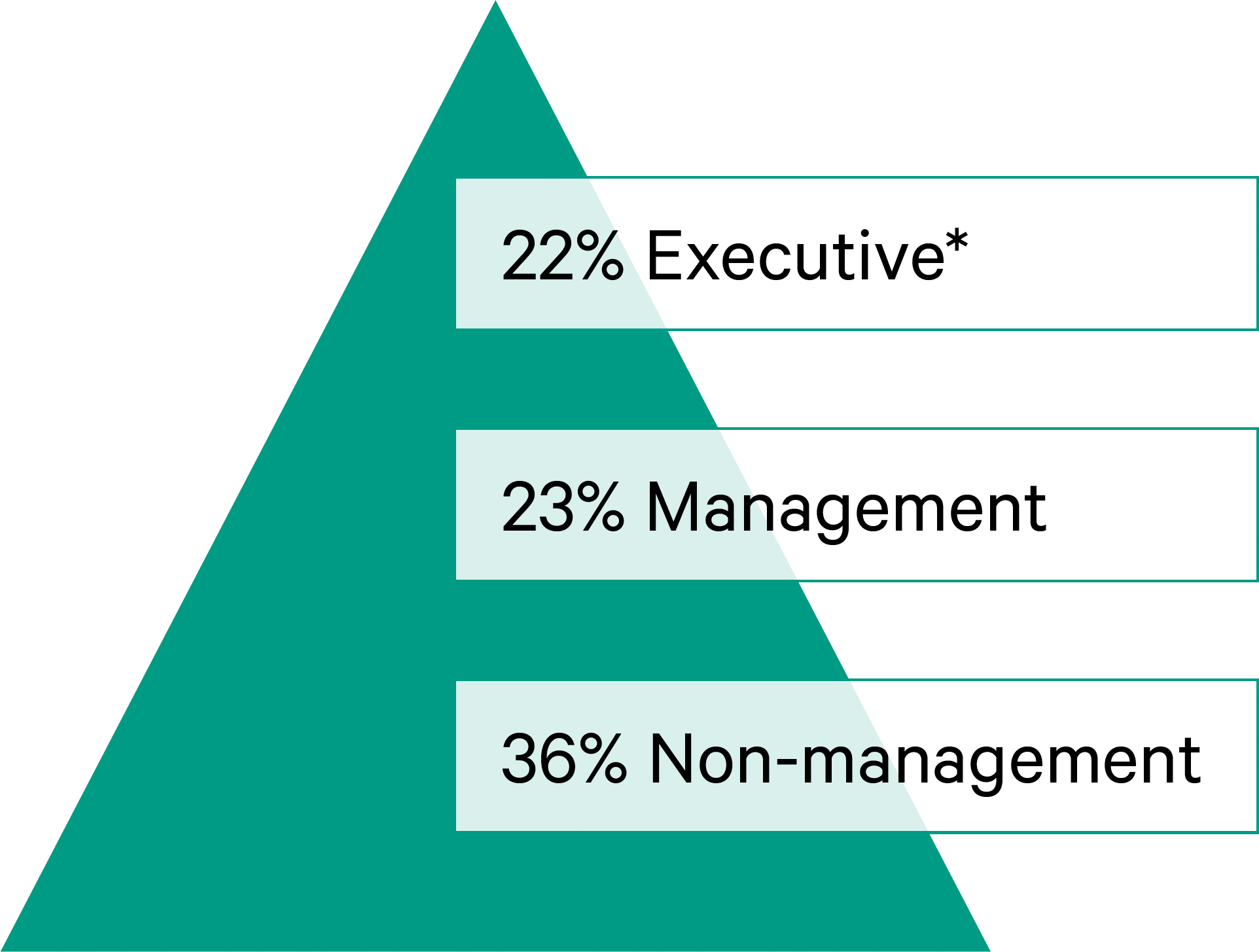 Female representation in the workforce
Female
FY20
Male
FY20
Female
FY19
Male
FY19
Downer Board
33%
67%
37%
63%
Executive
22%
78%
21%
79%
Management
23%
77%
22%
78%
Non-management
36%
64%
36%
64%
*Executive refers to CEO, Key Management Personnel and Other Executives/General Managers, as defined in the Workplace Gender Equality Agency Reference Guide to the workplace profile and reporting questionnaire (WGEA Reference Guide).
Overall, women in management positions remained stable and the recruitment and promotion of talented women will continue to be a focus for the next period to enable progress towards targets. This is reflected in the proposed initiatives to support diversity and inclusion for FY21.
The representation of females in the workforce across the Downer Group decreased by one per cent in FY20. Downer's diversity strategy remains focused on improving gender balance in traditionally male-dominated areas, including trade roles, middle management and senior management.
Downer realised a number of objectives around increasing female engagement in FY20 including:
Successfully introducing the Women in Leadership Downer (WILD) program in New Zealand to help develop women leaders. Downer has committed to rolling out the program to enhance and encourage the strength of its women leaders
Developing the online MentorLoop mentoring program, which was scheduled to launch in April 2020 but has been delayed due to COVID-19. Participants will be able to engage with a mix of senior male and female leaders, including Board members.
Downer believes that gender should not be a factor when we make decisions on rewarding our team members. In FY20, Downer became a Workplace Gender Equity Agency (WGEA) pay equity ambassador. We chose to become a pay equity ambassador after:
Undertaking pay gap analysis of our workforce for the past three years
Taking action on the results of the gap analysis
Reporting pay equity metrics to the Executive Leadership Team and Board
Communicating our pay equity initiatives to our employees.
Downer had planned to host our first WGEA round table event in April 2020, but the event was postponed due to COVID-19. Downer is committed to equitable remuneration practices across the Group and will continue to drive this expectation commencing from the point of hire, at each promotion and annually.
In 2020, Downer also became a Premium Partner of Engineers Australia's International Women's Day campaign, which celebrates and supports women in engineering and beyond.
As part of our sponsorship, Downer representatives were invited to speak at Engineers Australia's four gala events in Sydney, Melbourne, Brisbane and Perth in the week leading up to International Women's Day on Sunday, 8 March 2020. Leaders from various operational and functional teams represented Downer in panel discussions about how we can achieve a more diverse engineering profession.
Two of the six members of the Downer Board are women.