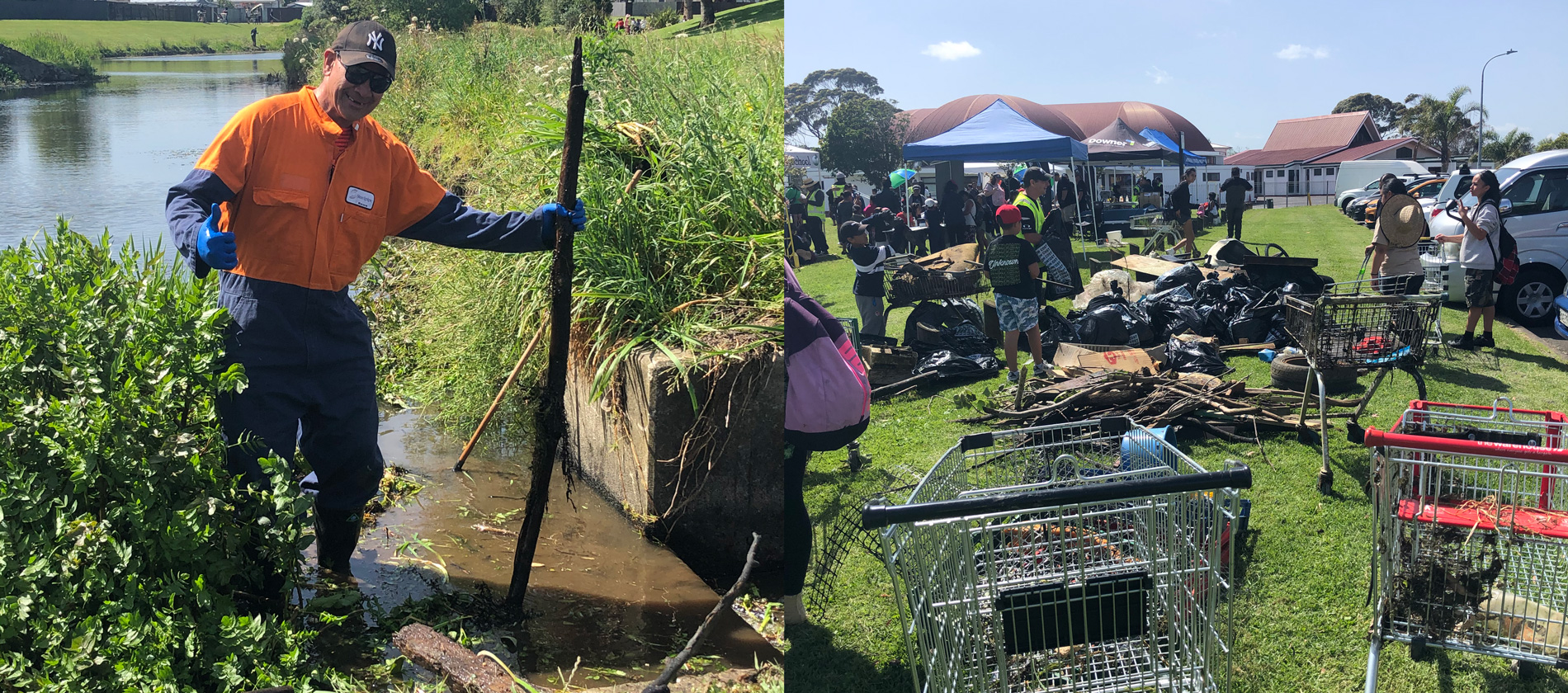 Case study
The power of kindness
Connecting our people with our local neighbourhoods is an important role Downer plays in maintaining sustainable communities. Over the past year, the New Zealand team has been out and about across the country, with our people volunteering their time and skills, and showcasing our company tagline – Relationships creating success.
The Hawkins team in Mt Maunganui created a community recycling station for their Zespri project where the public could collect reusable construction waste generated by the site, rather than sending it to landfill. The team saw their waste disposal for the site reduced by 10 per cent. Small local change can have a big impact!
Stream clean-ups were also an engaging way for our people to contribute. The National Support Centre and Spotless teams did two stream clean-ups along Puhinui Stream, with hundreds joining in from Downer, local schools, Auckland council and local not-for-profit groups. The stream had become a dumping ground for some pretty questionable items, with nine shopping trolleys, two couches and a cash register recovered, along with three truckloads of plastic and household waste. All this within a two-kilometre stretch of waterway!
The Bay of Plenty Open Space Management team put their green thumbs to use with Tauranga City Council, helping to renovate the Community Garden, known as The Rock Papamoa. The garden has been providing food for the local community since it was founded in 2012, and also works closely with the local kindergarten to provide food education to the children.
The team removed over 14m3 of green waste and took time to teach the children from the Little Pipi preschool how to plant a new vegetable garden.
Andrea McKay, from The Rock Papamoa, said they were delighted with the support from Downer.
"The work the Downer team helped with has already assisted us in enabling the wider community to use and benefit from the gardens," Andrea said. "The spirit of community and giving that the team showed is a testament to the Downer organisation."
In February, over 100 employees across the country took part in the Aotearoa Bike Challenge to promote cycling. Collectively, the Downer team completed 1,376 trips and cycled 27,140 kilometres, with Downer recognised as the national leader for construction companies. As part of the Bike Challenge, some of our people took on an extra challenge and fundraised for Variety – the Children's Charity. Through the Bikes for Kids program, Variety provides hundreds of deserving or disadvantaged Kiwi kids with bikes of their very own each year. Recipients of the bikes are nominated by people in the community.