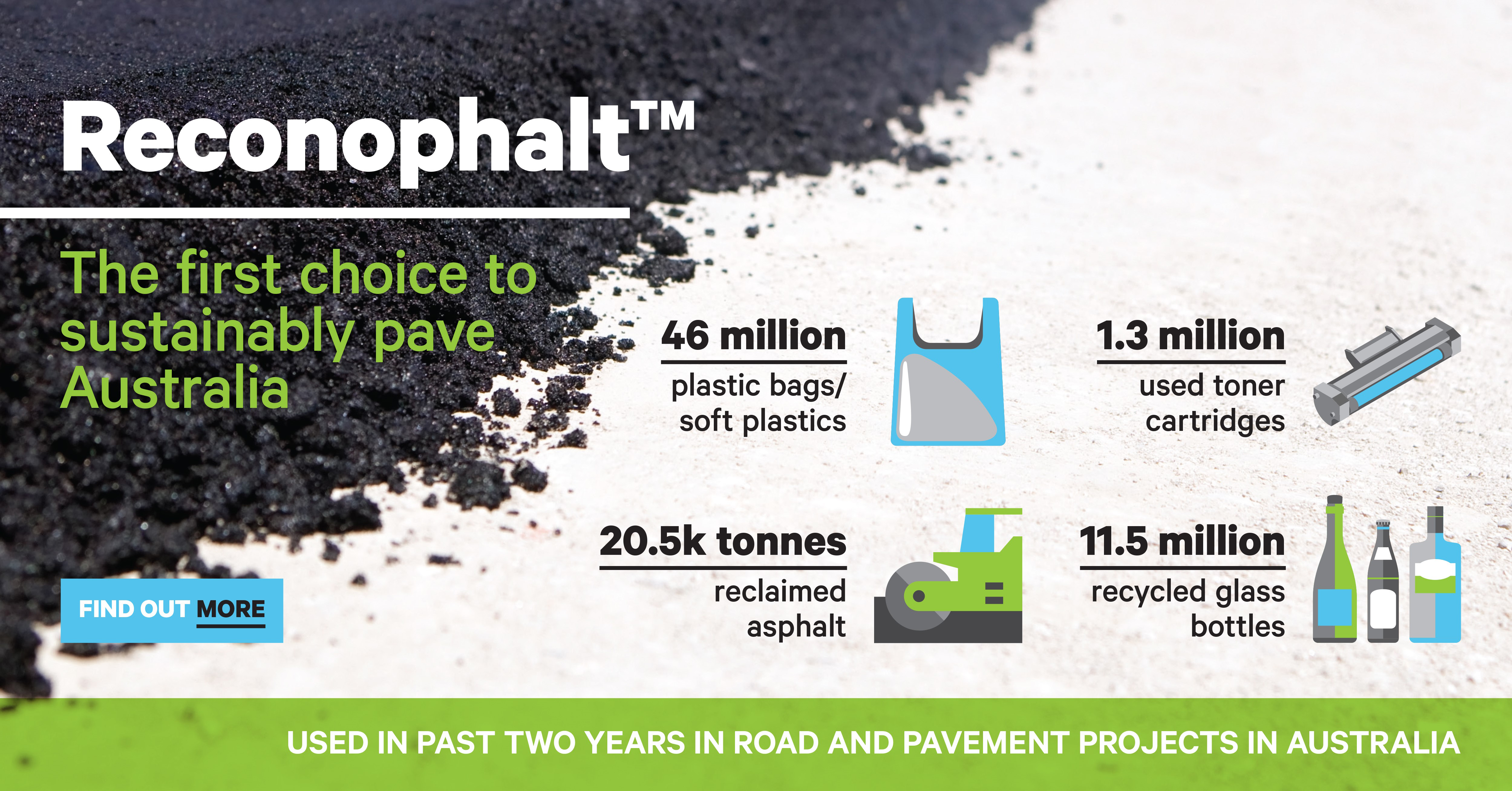 Case study
46 million plastic bags used in sustainable asphalt in two years
In June 2020, Downer marked the two-year anniversary of Australia's first road laid with Reconophalt™, Downer's sustainable asphalt product.
In that time Downer has laid over 77,000 tonnes of roads in six Australian States or Territories, utilising soft plastics from 46.1 million plastic bags and packaging equivalents, toner from 1.3 million used toner cartridges, glass from 11.5 million glass bottle equivalents and 20,500 tonnes of reclaimed asphalt.
Since the first project in Craigieburn, Victoria, governments and local councils have been eager to trial the innovative product both for its superior performance and for its significant sustainability credentials. The challenge of how to deal with recycling and waste remains difficult for local councils and communities in particular. Reconophalt™ is a pioneering solution to that challenge.
Downer General Manager, Reconomy, Jim Appleby, said Reconophalt™ helps governments address their own recycling and carbon emission reduction targets and, in choosing the product, they can feel confident that it has also passed rigorous testing.
"Downer researched and developed Reconophalt™ for over two years and after 18 months of testing by the NSW Environment Protection Agency (EPA), including the potential for leaching BPA (Bisphenol A – a substance used in the manufacture of plastics) and the release of microplastics, it has now received accreditation, demonstrating that it brings no increased environmental risk while providing considerable sustainability and performance benefits. These include increased fatigue life and improved deformation resistance," Jim said.
"Importantly, we've also achieved our goal to enable this road surface to be perpetually recycled and reused, so future asphalt roads can be built with the same material again and again."
Reconophalt™ is the first road surfacing material in Australia containing high recycled content derived from waste streams, such as soft plastics, glass and toner, which would otherwise be bound for landfill or stockpiled.
This initiative demonstrates Downer's contribution to achieve the following Sustainable Development Goals: #9 Industry, innovation and infrastructure; #12 Responsible consumption and production; and #13 Climate action