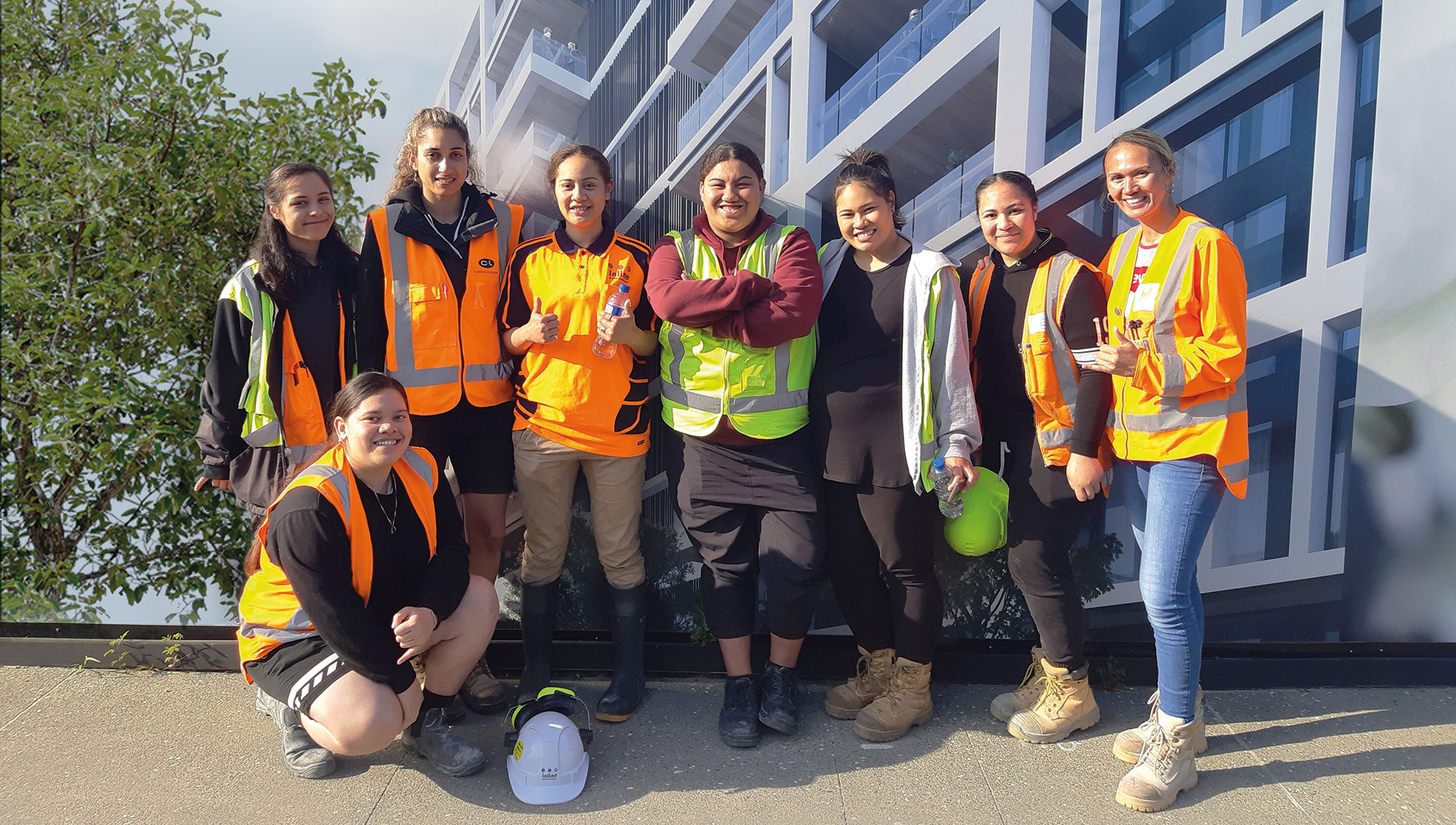 Case study
Hawkins Foreperson Roimata Maihi (right) with a group of young wahine (women) she is helping to mentor, as they work their way towards careers in the construction industry.
Evolving our leadership programs
Downer offers a number of tailor-made leadership programs in New Zealand designed to engage our people and supply chain in career development opportunities.
Central to this has been the development of programs that meet the needs of individuals as they grow into their roles. All programs have a focus on building a stronger New Zealand by better equipping participants with the skills they need for a long and successful career.
The programs are largely based on two Māori philosophies:
1. Te Whare Tapa Wha, which looks at the whole person and the four dimensions of wellbeing:
Physical wellbeing
Spiritual wellbeing
Emotional wellbeing
Family and social wellbeing.
2. Kaitiakitanga, the holistic stewardship of the world around us.
The supply chain programs are designed to build a network of capable subcontractors who can help Downer to deliver quality programs. The Hawkins Māori and Pasifika work placement program is one example that supports Māori and Pasifika men and women entering the construction industry through apprenticeships. Each participant is partnered with a mentor from Hawkins to help navigate a career in construction.
Our new Women in Leadership Downer (WILD) program provides a safe and inclusive learning environment that enables and empowers our women into future leadership roles.
"For me personally, this program was so different to your normal training course. What made it different was the holistic approach," one participant said. "The training recognised we are all different and therefore there wasn't a single view, tool or technique that fits all. The reflection exercises were quite deep, and sometimes those are the hardest to undertake, but also the best way to become more self-aware."
The two-day residential course includes a single-day follow-up session. The investment has provided incredible value to the participants and the business.
Following the completion of a successful pilot program last year, Downer has added the WILD program to the leadership suite of development opportunities for our people to enhance the strength of our Downer women leaders.
This initiative demonstrates Downer's contribution to achieve the following Sustainable Development Goals: #5 Gender equality; #8 Decent work and economic growth