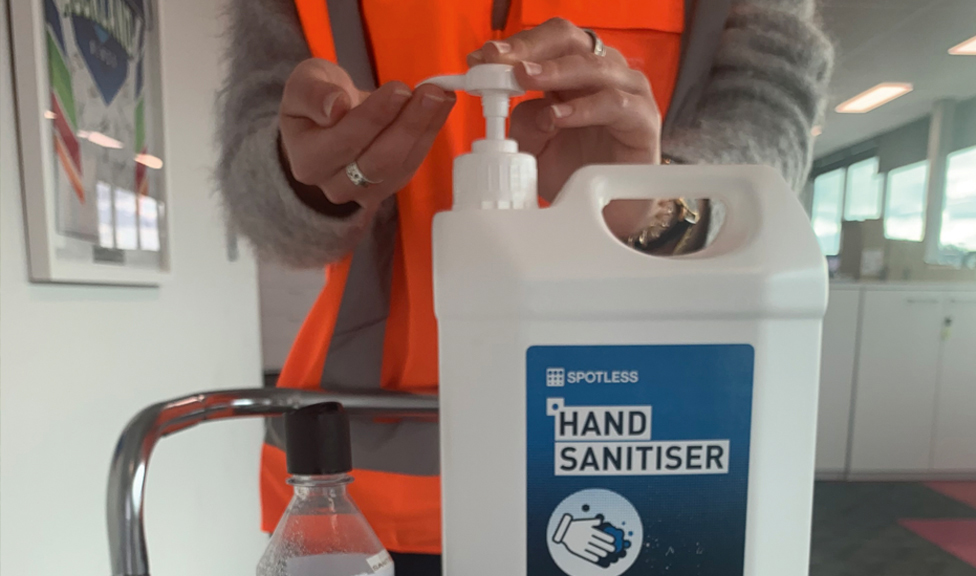 Case study
Sanitiser prevails
Innovative thinking is at the heart of New Zealand's Road Science team, which has a history of providing cutting edge road and pavement solutions.
A nationwide lockdown was not about to slow down the team's enthusiasm to solve a problem.
In March 2020, as the COVID-19 pandemic was surging globally, our Spotless cleaning teams were struggling to source hand sanitiser, essential for frontline workers in hospitals, defence and catering facilities.
"Recognising the impact this was having on our business, the technical development team got to work repurposing our manufacturing plants for bulk production of hand sanitiser," Technical Development Manager for Road Science, Darcy Rogers, said.
"We weren't in a position to do much road surfacing during this period, so it was an easy decision to keep the production team busy."
Sourcing a formula from the World Health Organisation, the team produced a bespoke hand sanitiser solution to keep our people and our customers safe.
"We worked with an existing supplier, who normally produces our epoxy and resin-based products, and was set up to handle flammable raw materials," Darcy explained. "This meant we could get straight to work producing hand sanitiser in bulk, using their equipment."
Downer's Procurement teams were then able to distribute this across New Zealand to the areas in most need. As the product started to appear in facilities nationally, enquiries began to flow in from external parties.
In total, the team produced more than 10,000 litres of hand sanitiser between April and June, and marketed the product under the Spotless brand.
EGM Facilities Services and Utilities, James Kafanelis, who is responsible for the Spotless brand in New Zealand, said the engagement with customers was outstanding.
"Our customers look to Downer as a one-stop-shop and this was an exceptional example of a number of our brands coming together during a crisis to solve an immediate need for the country," James said. "I'm extremely proud of the teams at Spotless, Road Science and Downer for their collective thought leadership."
More information on the hand sanitiser product can be found on the Road Science website www.roadscience.co.nz.
This initiative demonstrates Downer's contribution to achieve the following Sustainable Development Goal: